Pedicures are a fantastic self-care ritual. They're relaxing, luxurious, and you walk out of the salon eager to show off your baby-soft feet. But, the cost of a monthly mani-pedi quickly adds up.
Luckily, you can DIY the salon-quality experience, saving money, and doing things just the way you like them. In this round-up article, we'll give you all the tips, tricks, and product recommendations to get professional results from the comfort of your home!
At-home vs. Salon Pedicures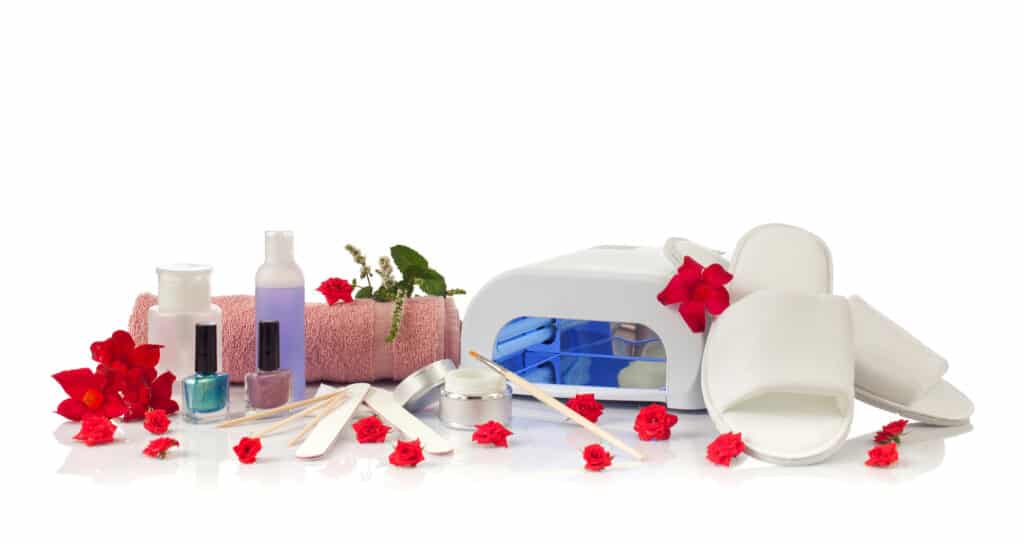 Savings are just one of the perks of at-home pedicures. Here are all the reasons to do your pedi yourself:
DIY Pedicures Are Easy and Convenient 
While nail technicians are pros at their job, achieving a professional-quality result at home isn't all that hard.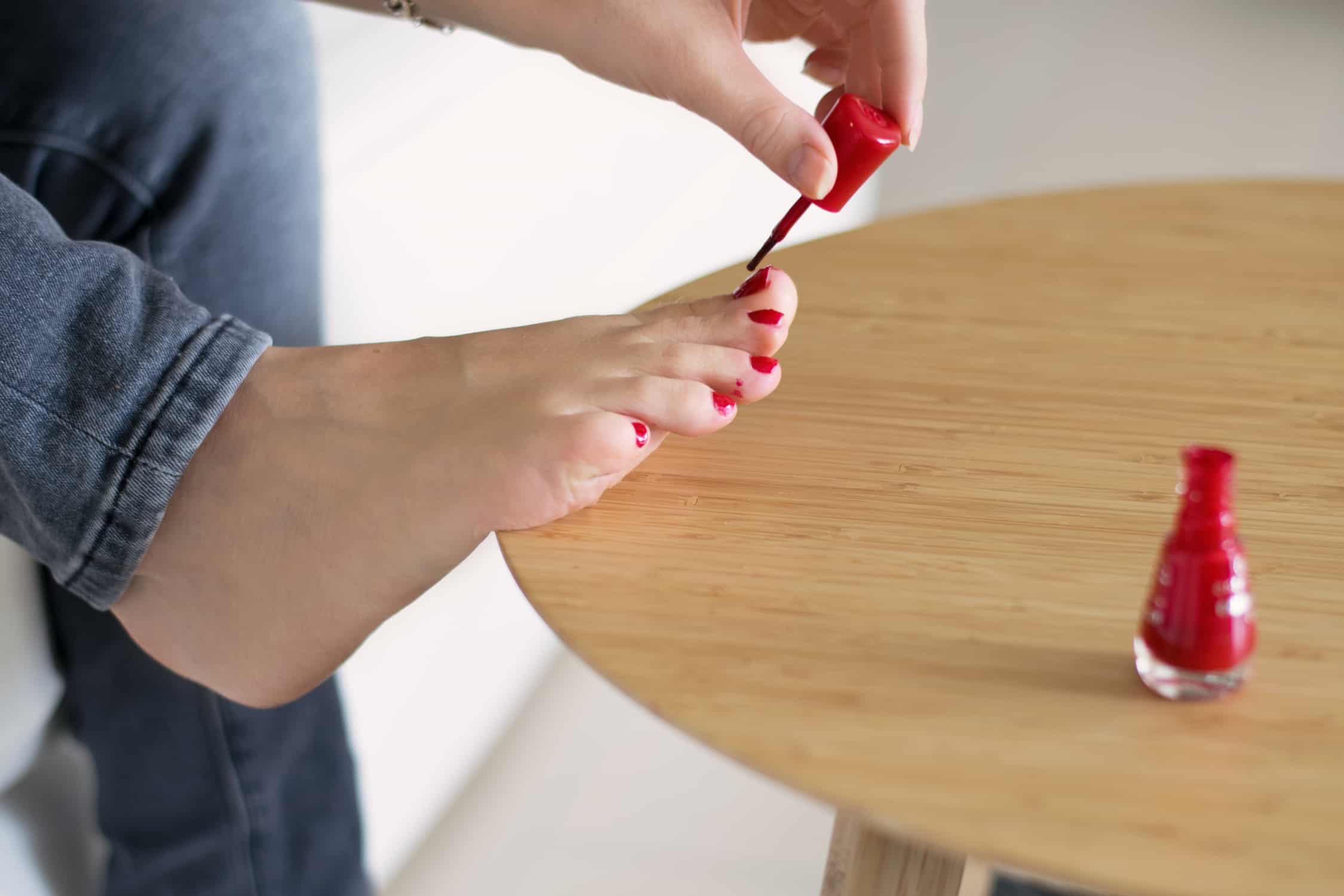 With some patience and the right tools, you can get your feet pretty at a fraction of the cost. There are so many resources to help you out – from YouTube videos to articles like this one.
Save Money Without Skimping on Quality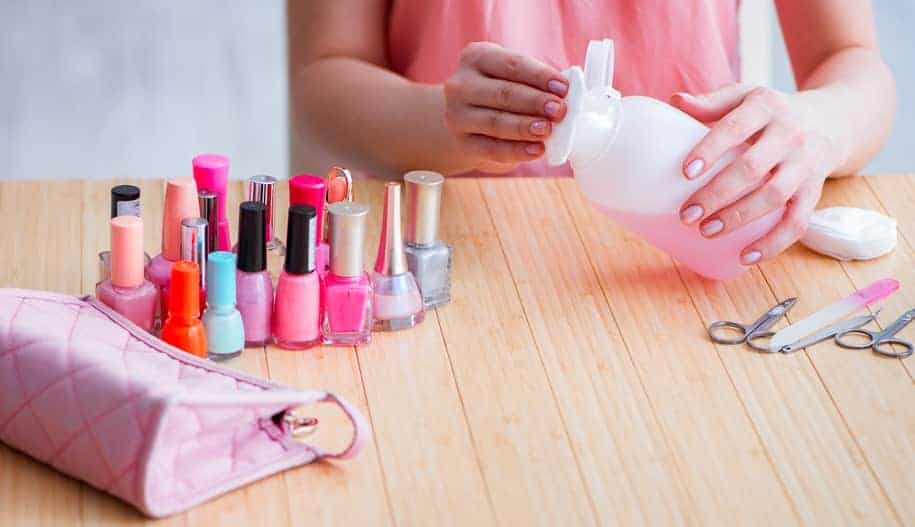 A professional pedicure will set you back between $40 and $60, and that's before the tip. You can find some deals on sites like Groupon, but every time you try a new salon is a risk. Sanitary procedures are crucial at beauty salons, but not every business follows the rules. Until you go there, you can't be sure they're reputable.
By doing things at home, you can control the cleanliness and quality and make sure you're not risking dangerous infections.
You can buy a high-quality pedicure set for the price of a single salon visit. And that includes more than just toe separators and a nail file. Powerful tools like the Own Harmony callus remover only cost $29.99 (and you can get a discount with their coupon.)
Bottom line: at-home pedicures aren't just about the savings; they are also safer, more convenient, and done just the way you like it.
Foot Conditions You Can Treat at Home
You're probably thinking:
Sure, DIY pedicures are great for maintenance, but I have stubborn calluses, corns, and cracks. Only a professional can deal with them!
You're partly right. If you have persistent skin conditions on your feet, it's best to talk to a specialist. But that specialist should be your doctor who can point you to a nail technician or recommend at-home remedies.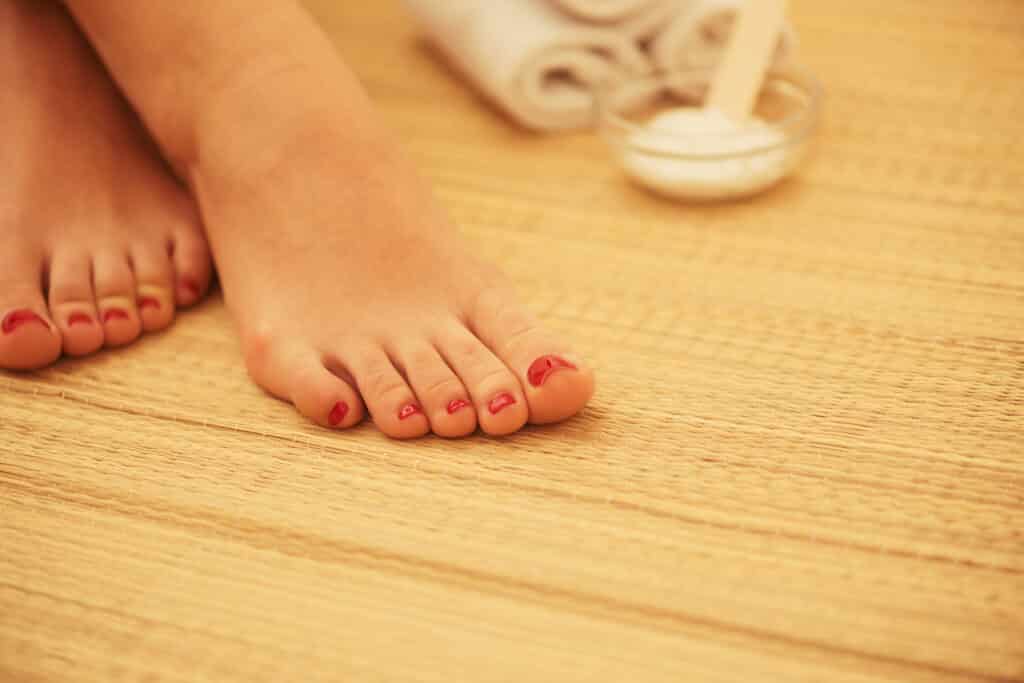 Feet get a bit unsightly in winter, that's true. Then, when summer comes, they need a little TLC before you can show them off in sandals. But, most foot conditions are easy to treat at home! Here's how to tackle them:
Get Rid of Calluses
Calluses appear in areas of friction or pressure. Their protective formation is meant to absorb mechanical stress and reduce the chances of getting a blister or another injury.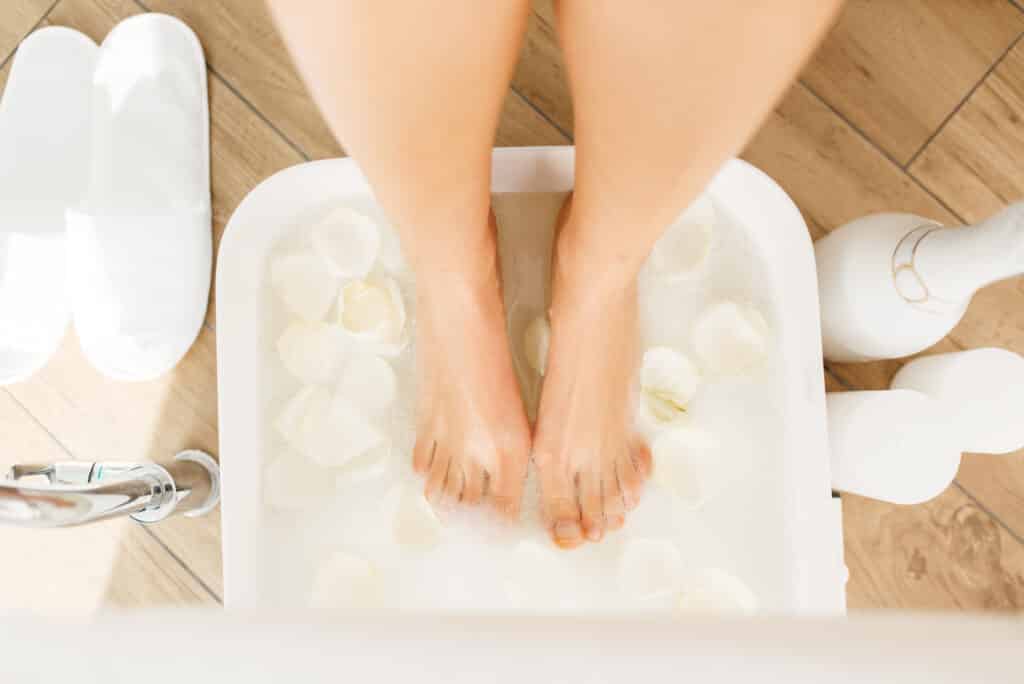 To get rid of them, start by soaking your feet in warm water. Add vinegar or citric acid powder to help break down the keratin that binds the callus together. Then, exfoliate with a callus remover or a pumice stone. Finish up by moisturizing and throwing on a pair of fuzzy socks.
To banish calluses for good, reduce foot pressure by wearing comfortable shoes and socks made of natural fibers (like cotton or bamboo).
Dry, Peeling Skin
Your foot skin is exposed to many irritating factors which can dry it out. Hot showers and baths, dehydration, or infections like athlete's foot can all cause dry, peeling skin.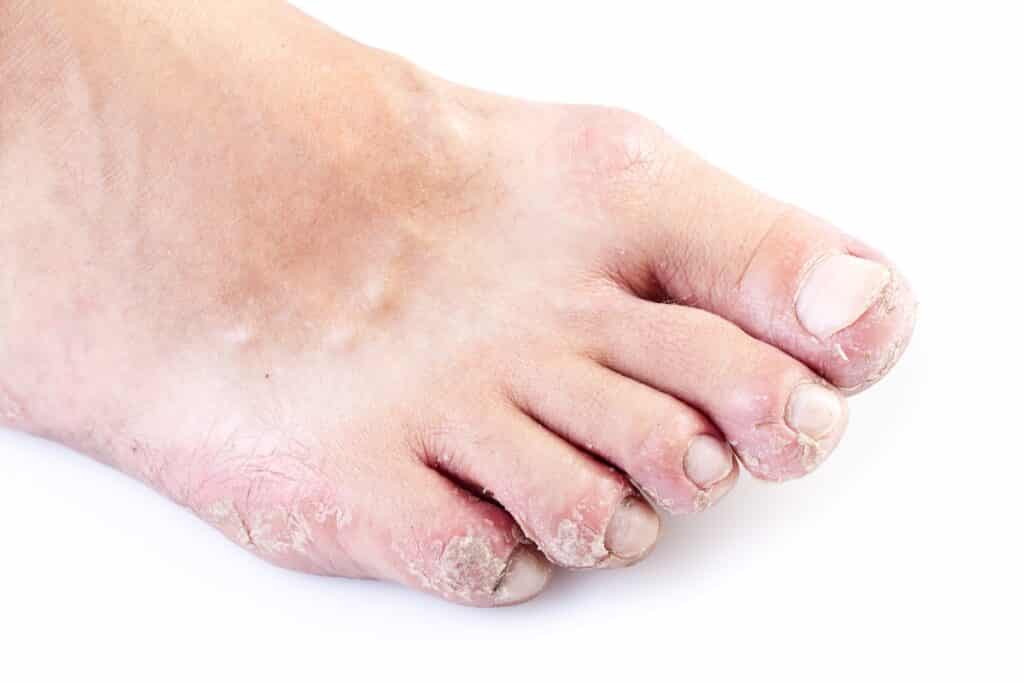 How do you get rid of it?
First things first, soften and exfoliate. Removing dead skin buildup helps moisturizers penetrate your skin more effectively. But, be careful about foot soaks. Hot water, Epsom salts, and acidic ingredients can all dry out your feet.
If you're going to soak your feet, go for lukewarm water and some essential oils. Tea tree oil has even been shown to treat athlete's foot.1Fenella D. Halstead, et al. The Antibacterial Activity of Acetic Acid against Biofilm-Producing Pathogens of Relevance to Burns Patients, PLoS One. 2015
To exfoliate, choose a gentle method like a callus remover, a pumice stone, or a sea salt scrub. You don't want to use something too abrasive since that can injure your already vulnerable skin.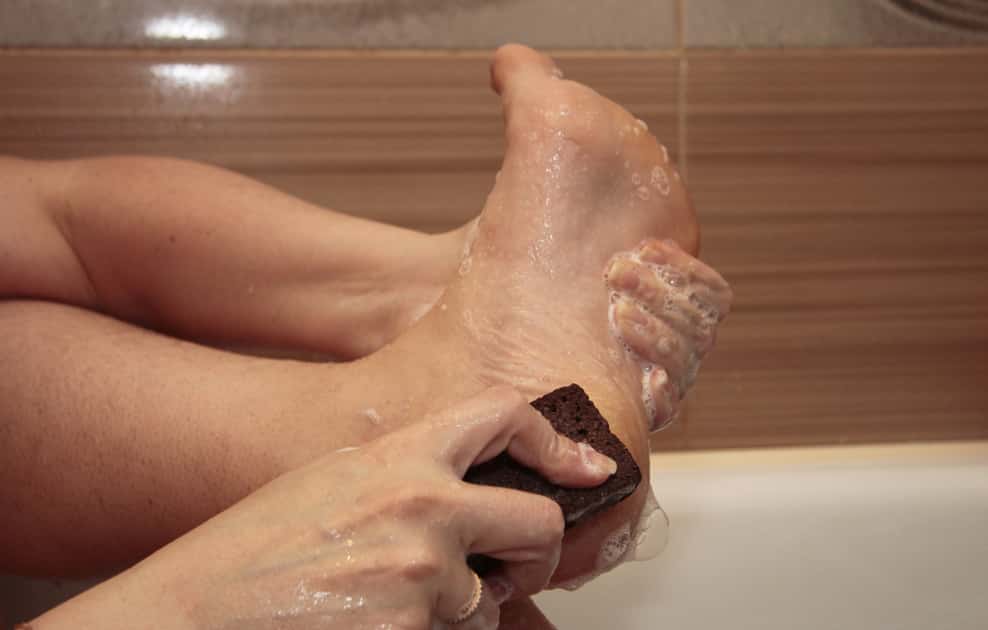 Then, clean off the residue and apply a rich moisturizer. A 40% urea foot cream can help with deep hydration and nourishment (and it also prevents calluses from appearing.)
Rough Feet 
The skin on your feet is thicker and rougher than other parts of your body since it has to carry around your body weight. Regular exfoliation, foot soaks, and hydration is the most sustainable way to keep your feet soft. Foot peel masks work wonders for melting off dead skin buildup – check out our selection here!
What Are The Best At-Home Pedicure Tools?
Here's how to build your pedicure set with professional quality tools and products. And all for under $100!
Own Harmony Callus Remover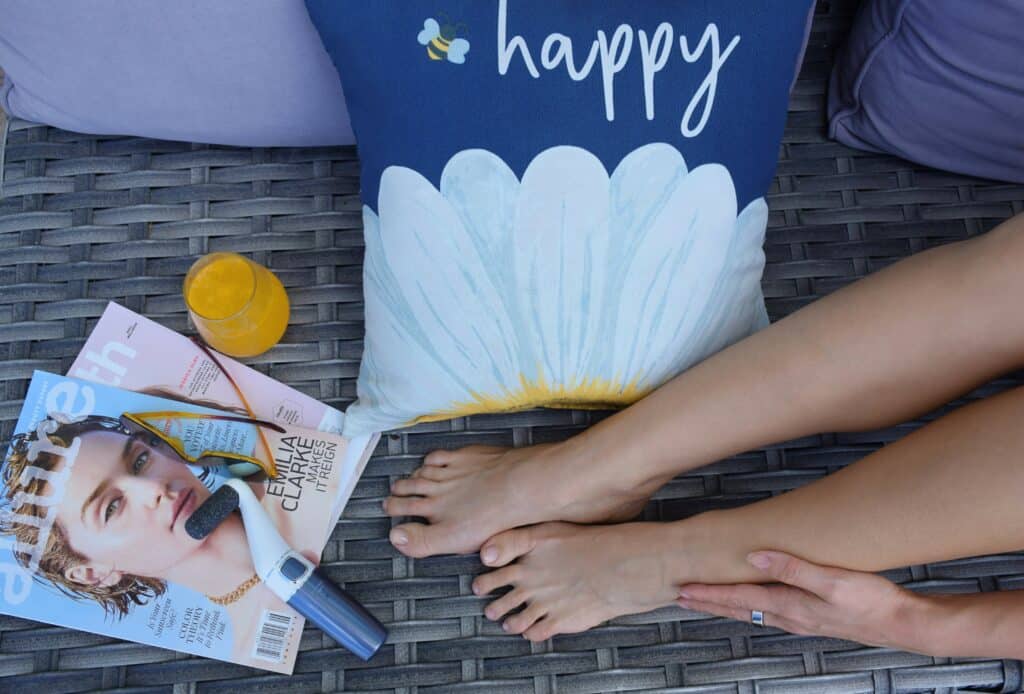 The Own Harmony callus remover retails for $29.99, making it one of the most affordable electric callus removers. But the price isn't the only reason we recommend it:
The 

360-degree roller

 can exfoliate even hard-to-reach places.

It's 

compact and easy to pack.

The 

rechargeable battery 

lasts enough for several pedicures.

It 

slows down if you press 

preventing accidental foot injuries.
If you're curious why we don't recommend a foot grater, check out this article.
Spoiler alert: it's because grater-type tools have caused life-threatening infections!
Foot Peels & Masks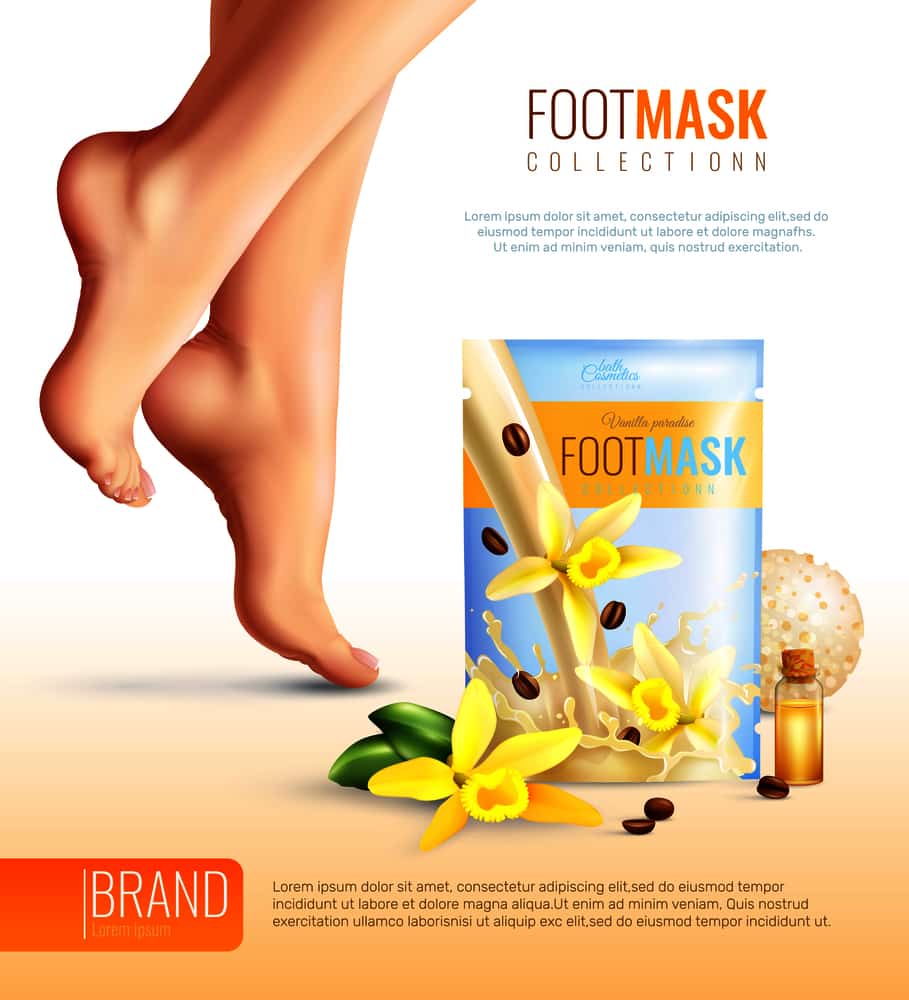 Foot masks deliver concentrated active ingredients for quick and reliable results.
Nail Tools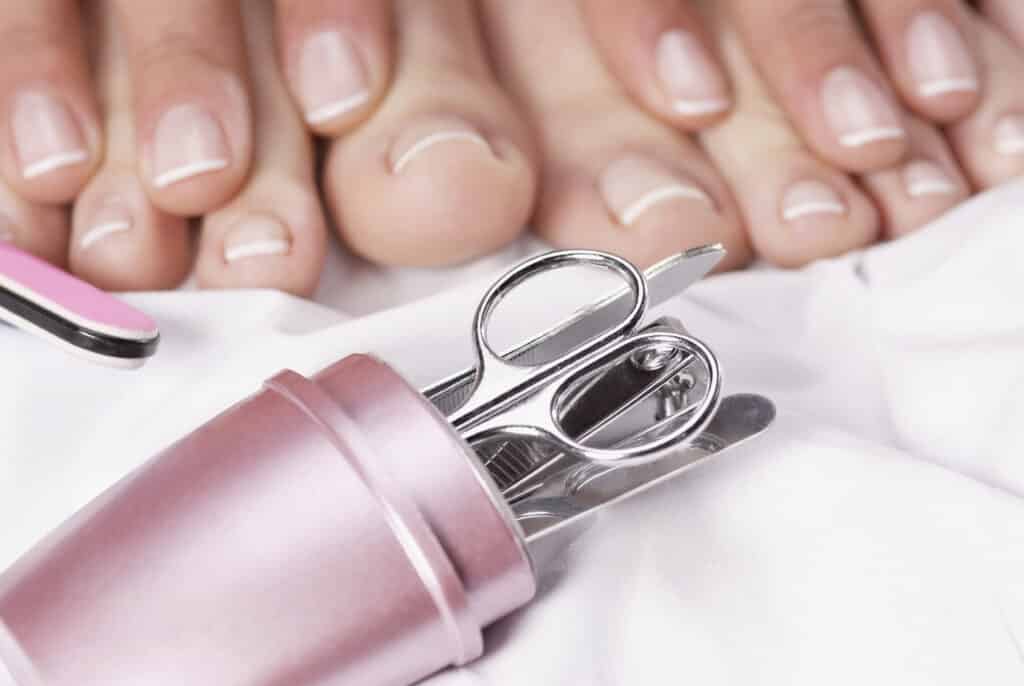 Invest in a set of high-quality clippers and nail tools to trim and shape your nails.
Foot Bath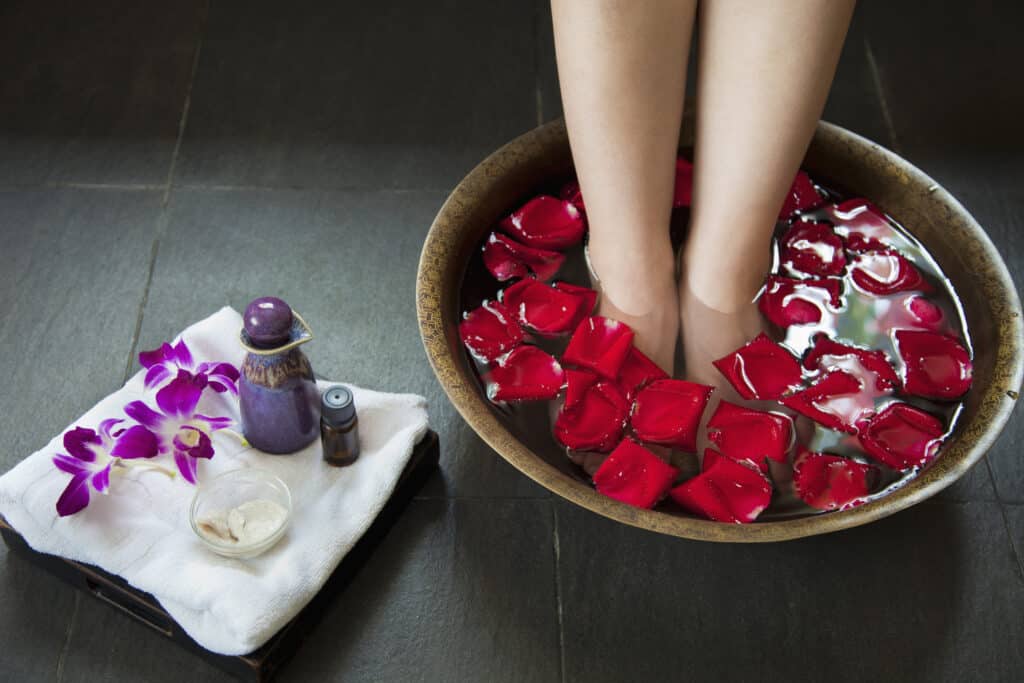 While you can soak your feet in a washtub or even a large bowl (that you don't use for cooking), a foot SPA can elevate your DIY pedicure game.
Foot Soaks
Warm water is perfect for loosening hard skin and making it easy to buff off. But, soak salts come with additional benefits like killing bacteria, softening your skin, and preventing fungal infections.
Have you ever tried an at-home pedicure? Share your tips & tricks in the comments below!