Are your feet tired, dry, or callused?
I've been there, and this is the tool that finally helped me banish unsightly feet for good.
And I'm not the only one who loves it:
With 3,700+ five-star reviews, the Own Harmony electric callus remover is one of Amazon's best-selling foot tools.
Here's why it makes the perfect addition to your pedicure set:
How to Choose a Callus Remover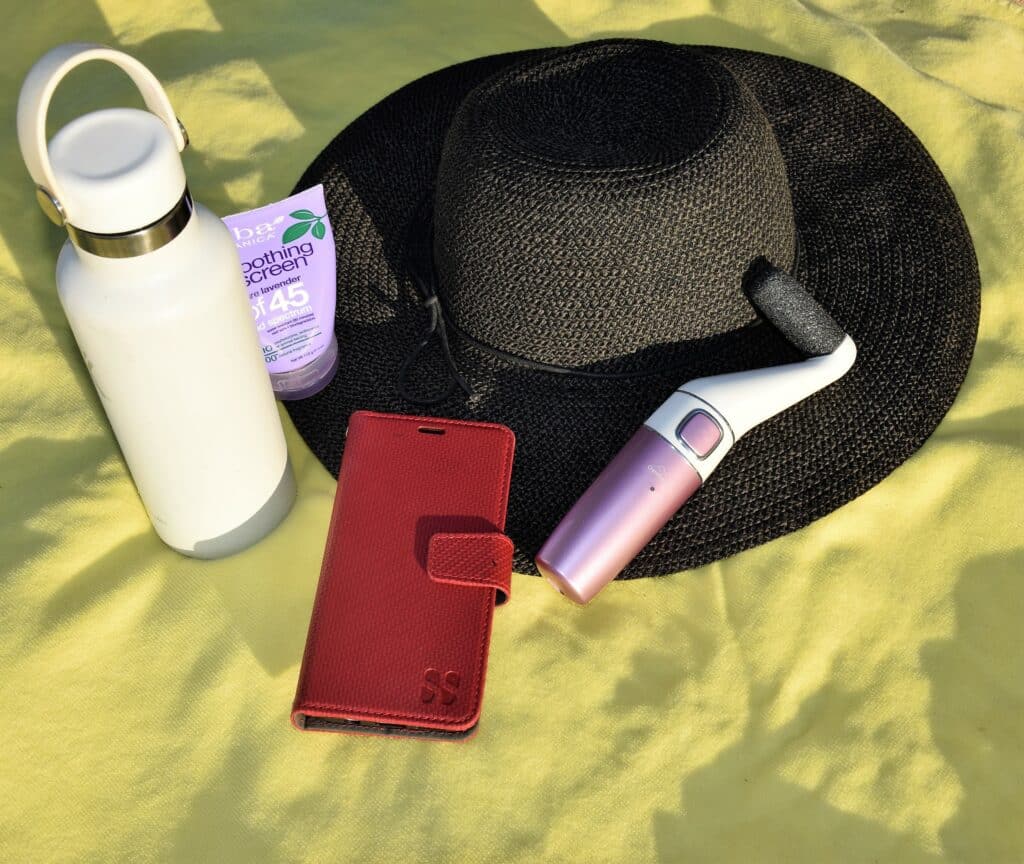 Electric callus work with a gentle mineral roller, powered by a high-speed rotating motor.
This way, instead of endless rubbing with a foot file, you can buff off excess skin quickly and effortlessly.
But, there are a few things I considered when buying the device:
Does it get rid of the calluses? Callus removers need to be powerful enough to remove all the dead skin, while still protecting the healthy tissue underneath.
Is it safe? Over-exfoliating your skin can open sores and cause infection. Is the tool too rough on your feet?
Will it last? A reliable product can keep your feet soft for years to come, not just a single summer.
Does it take up a lot of space? I travel a lot, so I appreciate a compact, easy-to-transport product.
How much is it? I don't mind investing in a high-quality product, but anything over $40-$50 was over my budget.
Finally, I don't like buying electronics with disposable batteries. Rechargeable appliances are much more eco-friendly and convenient.
So, how did the Own Harmony callus remover stack up?
Features & Specifications
Price is one of the most important perks of using this callus remover.
At just $29.99, it's cheaper than a salon pedicure but does the same job. Here are the key features that set Own Harmony apart:
Salon Quality Results
Here's the thing:
I often wear flip-flops, sandals, and strappy shoes, but I don't want to spend the time and money on pedicures every three or four weeks.
The Own Harmony callus remover gave me baby feet cheaper and more conveniently.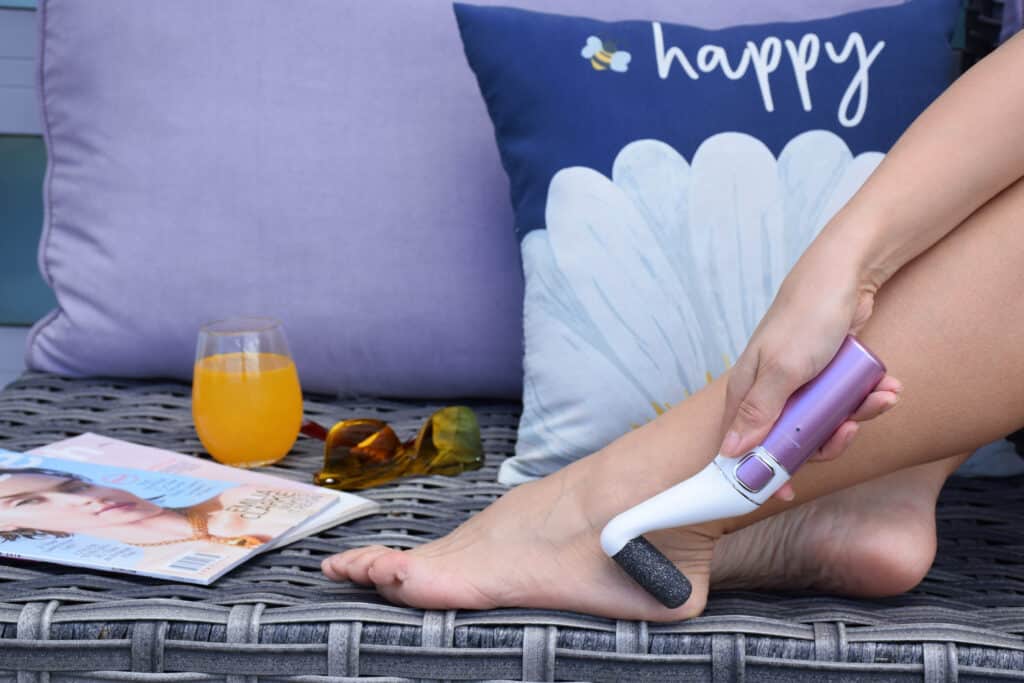 It's a very powerful little thing:
The convex-curved rollers cover 11% more surface area than other products.
It's powered by 50x/second rotating motor; it's like rubbing the spot back and forth 50 times in a single second.
It came with three micro quartz rollers, two standard and one coarse (I left that one to my boyfriend who has much thicker calluses.)
Compact & Convenient
I live in a tiny apartment and travel often, so I was happy to find out the callus remover is light and easy-to-pack.
It has a built-in rechargeable battery, which is more sustainable, and it means I don't have to keep batteries around at all times.
It takes 8 hours to fully charge, though, so make sure you plug the charger overnight.
When I forget to recharge it, the tool can be used with the power cord attached to the wall (just keep it away from the shower.)
Since the charge holds for 45 minutes of continuous use, though, this rarely happens.
Traveling outside of the US? The callus remover can receive voltage input from 110V to 240V, meaning you just need an adapter, and you're all set.
Safe to Use
One of my biggest concerns about foot exfoliation is skin injuries and infections.
Foot file graters, for instance, are dangerous because you only have the pain to guide you. And if you feel pain, it means you already opened a sore, a potential entry point for life-threatening infections.1Steve Sbraccia. NC woman almost lost leg because salon used banned tool
, https://www.cbs17.com/. 2018
The Own Harmony electric callus remover balances efficiency with safety with mechanisms like:
Pressure-sensitive technology slows down the motor when you press too hard (you're only supposed to glide it back and forth.)
A Safety switch to prevent accidentally turning on the device.
Multiple mineral rollers allow you to have an individual stone, even if you're sharing the device. You can get replacement rollers here.
Bottom line: Own Harmony is affordable, sturdy, travel-friendly, and much safer than other exfoliating tools. Here are some tips to help you make the most of it:
How to Make the Most of Your Callus Remover
Over time, I've been using my callus remover in one of three ways:
Dry Exfoliating
This is the quickest way to give your feet a makeover. It doesn't hurt one bit, and seeing the dust clouds of dead skin is very satisfying. Just be extra careful about over-exfoliating and apply moisturizer afterward.
Quickly Tackle Calluses After the Shower
I use the foot callus remover every few days after I shower, usually while my hair conditions. You can't use the tool under the shower, but you can use it on wet feet or with wet hands. So, I usually put in the conditioner and give myself a quick five-minute exfoliation while waiting. By exfoliating daily, I prevent deep calluses and keep my feet baby smooth.
Get the Full Salon Experience
When I feel like pampering myself, I go through all the steps of a salon pedicure. First, I soak my feet for 15-20 minutes in warm water.
If I have foot salts on hand, I like to add some. If not, some essential oils or Epsom salt make for a relaxing and rejuvenating soak.
Then, I pat dry my feet and go over with the callus remover. I take my time with the exfoliation to tackle all areas (the 360-degree roller helps tackle hard-to-reach spots effectively.) Finally, I wash my feet and smear a generous amount of moisturizer.
My boyfriend has much deeper calluses and the occasional skin crack, and the foot callus remover has been working great for him. We use an individual roller for hygiene. If you're sharing your device, get refills on rollers and keep your rollers apart to prevent mix-ups.
Since many men love the Own Harmony callus remover, the company has launched a men's design. The only difference is the color scheme, designed to appeal to reviewers asking for 'manly' colors. I might end up getting it as a gift for my partner so we can each have our own.
Own Harmony Electric Callus Remover: Final Thoughts
Whether you're prepping your feet for vacation or planning to show them off in a new pair of strappy heels, the Own Harmony callus remover is the perfect way to get them looking perfect. Safe, powerful, and affordable, it's easily my favorite item. Give it a go and get your feet baby-soft!